You are here:
>
Home
>
News
News
17 Feb 2017 |

Several members of our team as well as partners from the ISCED Huíla Lubango, Angola, had been to Brussels (Belgium) from 6th - 10th of February and contributed to the conference with posters, talks and chairing of an own session. Manfred Finckh and Rasmus Revermann chaired together with Casey Ryan (University of Edinburgh) the session on "Dry Tropical Woodlands in Africa" which hosted 16 Talks and 6 Posters From our working group presented Priscilla Sichone, Francisco Maiato P. Gonçalves, Rasmus Revermann, Janika Wendefeuer and Paulina Zigelski their research on Zambian and Angolan woodland types, composition and distribution, on socio-economic transformation processes in the Okavango Basin, on bird diversity along the Okavango River and on underground trees in Angola. From our direct SASSCAL cooperation projects Valter Chissingui and Vera de Cauwer gave talks on their research. Amândio Gomes presented a poster on Plant Functional Trait comparisons between related Angolan tree and suffrutex species. Furthermore, Ute Schmiedel presented a poster concerning the diversity and dynamics of succulents in the South African Karoo, Felicitas Gunter gave a talk on fairy circle inhabiting termite species in the session "Species Delineation in the Tropics", and Ute Schmiedel reported about experiences with paraecologists in "Tropical Biodiversity for Development".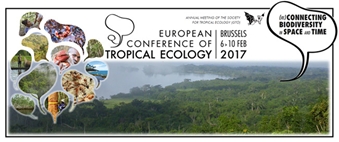 17 Feb 2017 |

Paulina Zigelski won the photo competition of the conference: European Conference of Tropical Ecology 2017 in Brussels with her picture of a tiny Angolan Reed Frog hiding in a peg. The photo was taken in Cameia National Park, Moxíco, Angola, in May 2016.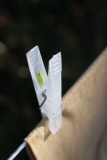 13 Feb 2017 |

We welcome again our guests from Angola: PhD students Amândio Luís Gomes from Agostinho Neto University, and Francisco Maiato Pedro Gonçalves from the Herbarium of Lubango based in ISCED – Huíla, Agostinho Neto University. Amândio works on eco physiological aspects, live biomass and species diversity of geoxylic suffrutices in the "anharas de ongote" or underground forests in Bié plateau, Angola. Francisco's research topic is the effect of shifting cultivation and charcoal production on the Angolan miombo structure, dynamics and above-ground biomass.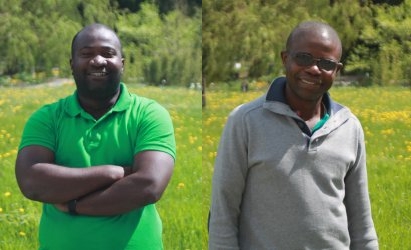 31 Jan 2017 |

Paulina Zigelski was awarded 27th January 2017 with the prize for the best plant science related master thesis at University Hamburg in the year 2016. The prize is endowed with 100 € and was bestowed by the German Botanical Society (DBG), represented by Hanelt, at the institutes colloquium after a short presentation of the thesis. In her master thesis "Molecular biogeography of the Syzygium guineense complex: How environment and genetics push suffrutication in Africas Miombo region" Paulina Zigelski investigated firstly the origins of "underground trees" in southern Africa in detail, using a model species for which an interaction of environmental and genetic factors played a crucial role in its evolution. The thesis was carried out at our working group BEE and was supervised by Norbert Jürgens and Barbara Rudolph. Abstract: The woodland-grassland mosaic of the Miombo region in southern Africa is home to a curious phenomenon: Many woody species of different plant families grow as regular trees in these woodlands but have closely related taxa in the open plains, growing as dwarf shrubs with huge underground woody biomass, as "underground trees" or so called geoxylic suffrutex. The model species Syzygium guineense (Willd.) DC s.l. was chosen to clarify the degree of relatedness between tree and suffrutex. The roles of environment and genetics upon the growth forms and the suffrutex evolution of were furthermore investigated and assessed. Seven different phenotypes of S. guineense were identified, sampled and ecologically and genetically via sequence- and SSR- analysis characterized. All phenotypes were genetically very close, whereas nonetheless three distinct genotypes were identified that correspond to broader ecotypes: a water-dependent tree-ecotype growing alongside rivers, a stress tolerant shrub-/tree-ecotype growing on ferralitic soils of Miombo woodlands and finally the suffrutex-ecotype of open sandy plains. The genetic patterns and their similarity in contrast to their strong ecological distinction point to a common ancestor from humid tropical regions which speciated in several directions due to changing environmental conditions. A climate change approx. 2.5 mya led to increased precipitation seasonality with marked wet and dry seasons and accordingly habitat loss for tropical humid biota. Evolutive adaptation had been facilitated for S. guineense by ist polyploidy, a genetic preadaptation that enhances responsiveness to environmental factors. Of these, frost and fire are probable initiators of the suffrutex lifeform as both events became more frequent with marked dry seasons. Therefore the combination of genetic preadaptation and filtering environmental factors were probable drivers of the S. guineense suffrutex evolution, yet not enough time has passed to call it a separate species.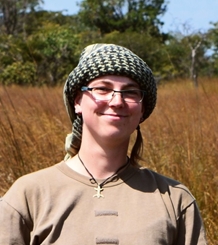 11 Jan 2017 |

As of January 1, 2017, Dr. Diana Quiroz will be working for 18 months as a post-doctoral fellow at the working group Biodiversity, Evolution and Ecology of Plants (BEE.) For her research project, she will be documenting ritual plant use among the Cora, an ethnic group in West Central Mexico. The objective is to obtain baseline data on plant uses, threat and conservation status of useful plants and, particularly, edible crops, crop wild relatives, and the knowledge associated with their management. From these data, she hopes identify directions for future research in re pathways and mechanisms of crop evolution. Her project is funded by DAAD under the framework of the Postdoctoral Researchers International Mobility Experience (PRIME) programme. During this time, she will spend 12 months at the Institute for Investigations on Ecosystems and Sustainability (IIES) of the National Autonomous University of Mexico (UNAM). Diana Quiroz studied Environmental and Resource Management (Bachelor) at BTU-Cottbus and Ecological Agriculture (Master) at Kassel University in Witzenhausen. In March 2015, she obtained her doctoral degree Ethnobotany at Wageningen University and Naturalis Biodiversity Center in Netherlands. In her dissertation, Dr. Quiroz explored the relevance of West and Central African traditional religions for nature conservation, human health, and culture.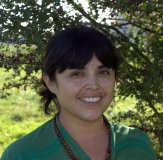 11 Jan 2017 |

We welcome Mrs Leena Naftal (BSc.) from the Namibian University of Science and Technology (NUST) for a two-week stay at our working group. Together with Dr. Jens Oldeland, Leena will learn how to use high resolution drone imagery from Savannahs for assessing tree species composition and diversity of the Sandveld Biodiversity Observatory in northern Namibia. The aim is improve the existing workflow of permanent vegetation monitoring by using drones. Her stay is funded by the SASSCAL project Task 159: Strengthening a regional Biodiversity Observation Network in the region.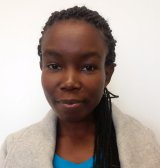 21 Dec 2016 |

In the Mediathek of the children TV- channel KIKA you can see a short documentary about termites (Macrotermes spp.) in Namibia. It was filmed in April this year on the Farm Erichsfelde, North of Windhoek and Dr. Kristin Marie Krewenka participated as "Termite expert". Unfortunately it is only available in German.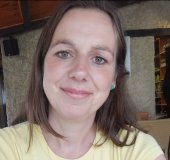 17 Nov 2016 |

Ms Seble Metaferia Hailu from the Wondo Genet College of Forestry and Natural Resources in Ethiopia is visiting the working group Biodiversity, Evolution and Ecology of Plants (BEE) for three weeks (from 14th of November until 2nd of December 2016). The visit was made possible through the ARBONETH project at the Department of Geography, Hamburg University. It is Seble's first visit in Germany. The purpose of her visit is to discuss and plan together with Dr. Ute Schmiedel the paraecologist programme that Seble manages at the Wondo Genet College. She is looking forward to meet with the colleagues in the working group and beyond.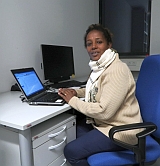 10 Nov 2016 |

After two months of exciting field work, Alina Twerski and Dominique Reinke returned safely from the worlds largest wetland, the Panatanal in Brazil. In cooperation with Dr. Geraldo Damasceno Junior from the Universidade Federal de Mato Grosso do Sul, they sampled plant diversity of monodominant tree communities in the floodplains for their MSc theses. Funding was provided by the HamburgGlobal travel fund of the DAAD / University of Hamburg.